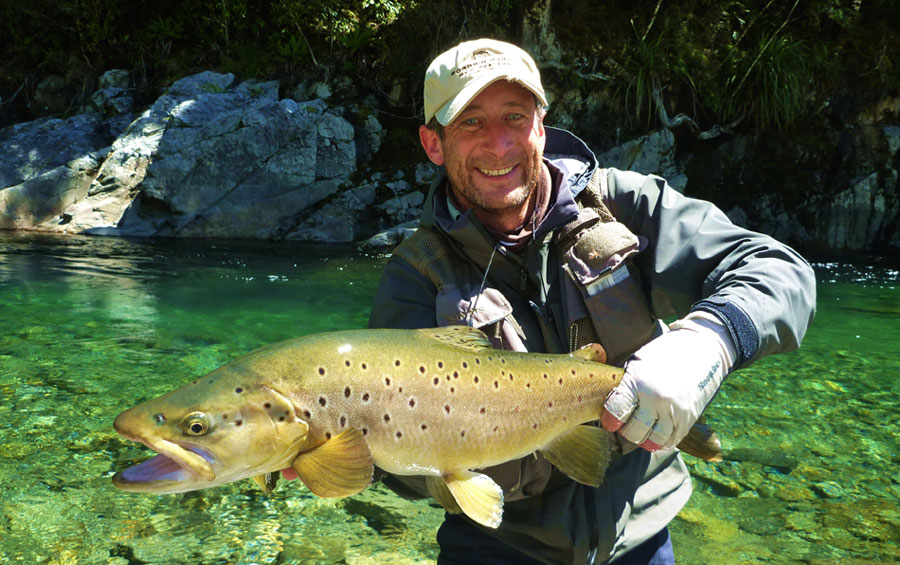 Mike Kirkpatrick
Your Professional Fly-fishing / Brown Trout Fishing Guide, Nelson, New Zealand
---
Latitude Guiding – Fly Fishing, Guided Fishing Trips, Trout Fishing. Nelson, Marlborough, West Coast, Nelson Lakes and Lewis Pass regions – New Zealand
Click on the clip above to view a teaser on what you could be doing!
The Nelson region, at the top of the South Island, provides some of New Zealand's best trout fishing
It's a fly-fishing paradise for anglers. The sheer abundance of pristine rivers, and waterways in this region provide literally hundreds of miles of plentiful fly fishing water ~ all within a couple of hours drive. The quality of these waterways is amazing, no two rivers are the same; from the slightly tannin stained West Coast, to the gin clear headwaters of Kahurangi National Park you will be spoilt for choice of the locations available. See our regional map for locations of Nelson fly-fishing rivers & waterways.
Your Fly-fishing / Brown Trout Fishing Guide
Expert fly-fishing guide and member of the NZPFGA (New Zealand Professional Fishing Guides Association) Mike Kirkpatrick, has been hunting and trout fishing this region for most of his life ~ and knows practically every nook and cranny of the Nelson region like the back of his hand. A passionate and knowledgeable fly fisherman he loves nothing more than taking a client into a wilderness area to hunt large (sometimes trophy) trout. If you really want to get into Nelson's Local,  Back Country or Remote Fishing, whether by Hiking, 4X4 or Helicopter, Mike will prepare a trip to suit. He will leave no stone unturned to give you the best experience possible.
---
Fishing Trips & Packages – Half-day, Full Day, Two or Three day excursions
Half day or whole day local fishing Two day fishing excursion, with overnight accommodation usually in a simple but comfortable cabin at nearest holiday park. If you prefer to stay at a Bed & Breakfast or a Lodge, Mike will happily arrange that also. Wilderness excursion for three days and two nights. Accommodation is usually in a trampers hut or riverside camping, depending on location and availability. If you would prefer a cabin or lodge this can be also be arranged. Larger multi-day trips available.
If your time is limited, Mike can arrange a helicopter for quick access to wilderness areas.
Mike provides friendly and thoroughly professional service. If you really want to get into some back country fishing in the Nelson region and beyond, Mike will apply his expertise to prepare a trip to suit at reasonable rates.
Click here for pricing, information, and bookings
---
New Zealand Fly-Fishing Adventure DVD's
Mike is the creator of Five superb SOUTH ISLAND FLY FISHING DVD's showing fishing for brown trout in the spectacular Nelson, Murchison & West Coast regions.
Click here to view previews or purchase.
Filming your trip
If you wish to have your trip of a lifetime captured forever, we offer you a high class filming service. Filmed, Edited and sent to you on DVD.
Latitude Guiding offers professional trout guiding services in the Nelson and Marlborough area of New Zealand's South Island.
Nelson offers some of the best sighted brown trout fishing in New Zealand. Come and experience some of NZ's best back-country fly-fishing with the help of Mike's expert knowledge of this region and its rivers.